GUYS. Thanks so much for your sweet words and the conversation generated after my last post. It's so strange – at times, I get this incredible urge to share the details of my journey and once I start writing, I can't stop.  I'm glad you appreciate hearing about my life, though! I'm not sure how my family feels about it (I think they'd prefer if I kept things private).  Not  many people in my personal life know about my blog. A couple close friends and a few relatives. Does your family know about your blog? What do they think?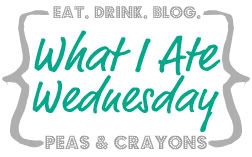 Today's WIAW post is a random collection of things I've been eating lately.  First up: my work snack stash!
Raw veggies, cherries, an avocado, peanut butter ALT larabar (the best). I drink Zen green tea throughout the day. Yesterday I treated myself to a 'Rocky Mountain Chiller' (Tazo passion iced tea, soda water, ginger ale and blueberries)
Avocado toast with sauteed kale, scrambled eggs and chili flakes. I've been putting chili flakes on almost everything lately. This breakfast fueled my trek up a mountain last weekend.  (Lets not tell my Dr/PT about that one, mmkay?)
You know how I'm always posting photos of these mountains? (Okay, pretend like you do.) Lauren and I climbed this peak. Ha Ling. (It is a good hike for fit individuals, in case you're thinking about adding it to your Rocky Mountain adventure bucket list.)
Oddly enough, my legs weren't sore the following day. I've discovered that when I take in electrolytes (NUUN tablets) during and after strenuous activities my muscles don't suffer. What's even weirder is I have a massive bruise forming on my arm. Either a bear or Lauren punched me?
HI! Check out this view. WHOA.
Have I reminded you lately that I live here? I'm sorry, I don't mean to rub it in, but COME ON. It's one of the most beautiful, sought after travel destinations IN THE WORLD and I get to live in it! (And have a real, big-girl job. There aren't many young professionals living here and I'm kind of an outsider in that sense.)
Sorry, back to the food. We ate Cinnamon Roll Quest bars at the top. It's in my top three Quest bar flavours. (Along with coconut cashew and cookies & cream)
Most mornings call for a Greek yogurt bowl. They're quick and easy. Just like me. (I'M KIDDING. CALM DOWN MOM.)
Plain yogurt, banana, blueberries, Qia cranberry vanilla 'cereal' and Bob's Red Mill wheat-free Museli. MMMM.
I offered to start bringing healthy yogurt parfaits to work for my bosses and this was the response I got:
"Yeah! So, instead of granola or whatever it is you put on top, replace that with syrup. And instead of yogurt, use ice cream." HAHAHAHA. He's right, though.
Peanut butter and banana sandwiches. Somewhere on a mountain. It looks small because it was. Why is gluten-free bread so tiny.
GRILLED ANYTHING. A friend came over for dinner last weekend and we made honey-lime-chili chicken breasts, roasted sweet potatoes and salad. Plus vodka sodas + fresh fruit.
I love patio season. I ate this bun-less "Kobe beef" (lies!) burger topped with lobster and crab at the Iron Goat in Canmore. It was burnt to a crisp but I ate it anyway.
My faithful standby when I need food and I'm in a hurry and/or lazy. Green smoothies forever!!! <3
THIS. Oh my goodness. DO IT. YOU WON'T REGRET SPENDING THE $12.  It's a blend of cashews, brazil nuts and coconut. (I think). It's the best nut butter I've ever had. Seriously worth the splurge.
No-bake cookie dough PROTEIN balls. They're dietary staple in the Joanna/Lauren household. We like using North Coast Naturals protein powders. This batch featured their raw chocolate hemp protein.
They're #glutenfree #vegan #notpaleo and so simple to make.
2 cups quick oats
1 cup protein powder of choice (we switch between hemp, brown rice and whey protein)
1 cup peanut butter
1/4 cup raw honey or maple syrup
1/4 cup unsweetened shredded coconut
salt, to taste
Optional: whatever fun mix-ins you have on hand: chia or hemp seeds, diced dried fruit, cinnamon, candy, Tylenol, anything really
Mix everything together and form into balls. If mixture is too dry or crumbly, add a tiny bit of liquid. 
I have to go to work now. Bye.
What's your favorite kind of snack/protein bar?  Quest bars (deal with it) and ALT Larabars
What's the last thing you ordered at a restaurant?