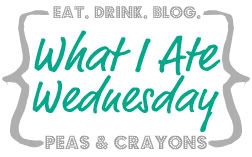 My very first WIAW. Yay!
From last weekend:
Breakfast: Pumpkin Spice (Latte) Pancakes. Made with ww flour, chia seeds and a tbsp of dark roast coffee. Topped with whipped cream, a dash of cinnamon and a drizzle of agave.
Lunch:
Hot and sour veggie soup from Bento Bowl, my favourite 'healthy' asian fusion restaurant, with mixed garden greens on the side
Dinner:
Court made this wonderful (healthy) breaded and baked fish. He used kamut flakes and herbs for the 'batter'. Served with black rice (my fave!) and veggies from our garden
Dessert:
Fudgey Pumpkin Brownies
Recipes coming soon!